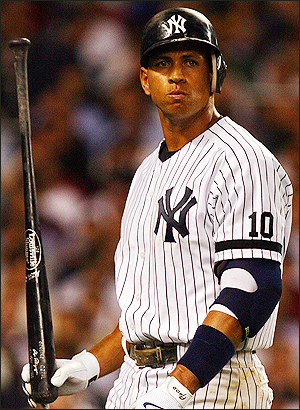 "Vloghog posted what?"
In 2007, New York Yankee Alex Rodriguez told
Katie Couric
that he never used steroids or was even tempted to use steroids. However,
according to Sports Illustrated
, A-Rod tested positive for anabolic steroids in 2003.
So, he is lying to Couric in the video below. According to Sports Illustrated, Rodriguez was informed of his positive test in 2003.
Thanks to CBS and Katie Couric for posting this video.
Look, do you realize how much money was thrown at A-Rod for playing baseball? In 2001, the Texas Rangers signed
Alex Rodriguez
to a 10 year $252, 000,000 contract and in 2008 A-Rod re-signed with the Yankees for $275,000,000!!! No joke. A half a billion dollars for one baseball player. He doesn't get that money without the use of steroids in my opinion.
C.R.E.A.M.
VlogHog